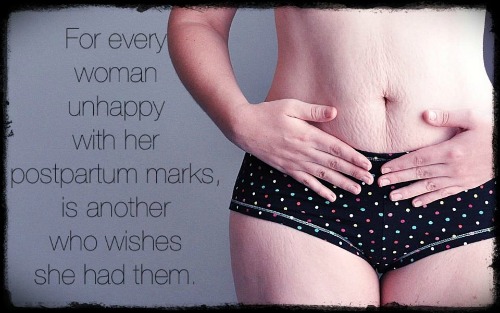 Artist, mother and overall awesome Samantha Thrall's image has recently gone viral striking a chord with many women. The image above depicts Samantha Thrall next to a quote that many of us can relate to.
It's important to perceive our stretch beauty marks as they are, battle scars from the most amazing sacrifice a woman's body can make - scars we need to be grateful for as they represent such a precious moment in time. 
Many women experience postpartum depression stemming from hormonal changes, feelings of inadequacy and body issues. 
A negative postpartum body image can contribute to low self-esteem and postpartum depression, as well as a host of other negative emotional and societal effects that aren't good for mama or her precious baby. It can also cause a mother to diet which could potentially be detrimental to her infant if she is breastfeeding as well as contribute to postpartum depression symptoms from lack of nutrients and calories. Clearly, postpartum body issues is an issue. 
I cannot count the number of times I have heard fellow moms say, "I have felt so unattractive since I had my baby." Heck, I've been there and struggle with it, too! But we need to reclaim the "mommy body" and celebrate it as an image of strength, warmth, and beauty. Samantha Thrall has captured that spirit in her image.
The Mother Behind the Postpartum Picture
She's a 26 year old stay at home mom to her beautiful 16 month old son Adrian Bleu but also an artist. From photography to painting ukelele's - it is clear that Samantha Thrall is a creative soul. Learn more about Samatha Thrall's work here.
Samantha Thrall is an eclectic artist with experience in set design, stage make-up, painting and photography. I personally LOVE her silhouette work below and plan to do one for my family. (Yes, she is taking orders!)
Virility
Samantha's image on the Facebook pages of Natural Parent Magazine, Plus Size Mommy Memoirs, Birth Without Fear and where it first appeared, The Guggie Daily have reached over 5,200 shares and 16,000 likes as of September 15, 2012 - in just 5 days, not mention blog posts as well!
We can easily estimate that this image will continue to reach millions across the internet over time, resonating on the web as a gift from one mother to another.
Read more about this image from Samantha Thrall herself in her related blog post.